As a dental professional, you may have experienced slow computer issues or printer problems at your office. This is frustrating when you need to print client records for paper-based files and details about your client's appointment for them to take home. While protecting client information is important, it's also important that your dental office operations run smoothly.
Here are four common printer problems and how to fix them. We will show you how to deal with paper jam issues, increase printing speed, and boost the quality of your printed paper.
How to Fix a Paper Jam
Experiencing a paper jam is one of the most common printer problems. Thankfully, fixing this issue does not take as long as other printer problems.
Correct the paper jam by following these steps:
Shut off the printer power and unplug the unit for safety reasons.
Open the printer cover to evaluate how the inside of your unit looks
Locate the paper stuck inside the unit and remove it.
If there are any small pieces of paper in the printer roller, be sure they are removed as well to be sure the paper jam does not happen immediately again.
Close the printer cover.
Take these steps to reassure the paper is installed correctly to prevent further paper jams:
Remove the paper from the paper tray and realign it so it is even.
Remove the paper tray (if applicable) and reinstall the paper.
Plug in and turn the printer on.
Continue your original printing job to test if the printer jam is fixed.
If the paper jam is still not fixed, repeat the process. If printer problems continue afterward, contact your printer's manufacturer for further assistance.
How to Fix Printing Speed Issues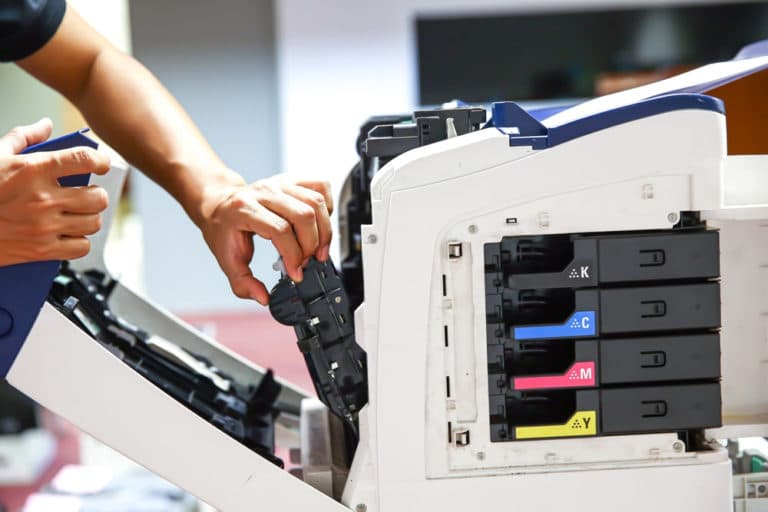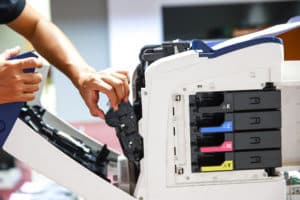 A slow printer does more than waste time for your staff. Without one, you'll struggle to preserve professionalism and ensure smooth processes at your front desk.
If the papers you are printing contain premium quality images, they will naturally take longer to print than documents that do not have images on them. Besides this possibility, your printer may slow down because of printer driver settings. Sometimes when the printer is set to the best-printed quality, it can cause slow prints.
While printing on both sides can save paper, it can slow down the printing speed. Operating the printer on the wrong settings can also slow down printing times.
Increase printing speed by doing one of the following:
Printing one-sided documents, even if it uses more paper, if your printer is able to switch between two-sided and one.
Perform any necessary software updates for the printer drive and its related software.
Reduce how many premium-quality images you print. Only print them out if truly needed for a client's reference.
Print papers only on standard settings.
How to Fix Print Quality
Speaking of printing quality, low-quality prints can happen if using the incorrect paper type or have low ink levels. Another cause can be incorrectly calibrated printing settings.
Fix print quality by following these tips:
Use only one brand of printer paper. Do not use two different brands of paper in one paper tray.
Choose paper type wisely as some may cause faded images more than others.
Reinstall your printer ink cartridges to reduce blurry or faded text or images. Refer to your printer manufacturer's manual to ensure correct installation.
Run your printer's "Head Cleaning" function to clear up any faded images. Scattered elements may be on the printhead that is causing this to occur.
How to Fix a Wi-Fi Connection Issue
Rather than print from a computer, you and your team can use their smartphones to print documents. Even if your dental office operates on the most premium high-speed Internet network, sometimes there can be miscommunications between the Wi-Fi connection and Wi-Fi printers.
Take these steps to have your printer pick up the Wi-Fi connection in no time:
Cut the power to your Wi-Fi printer and any computers or laptops utilizing the connection.
Turn off your Wi-Fi router. Unplug its power cord and leave it like this for 30 seconds to a minute.
Reconnect the printer's power cord and press the on button. Do the same for the Wi-Fi router.
Log on to your computer and check your antivirus software. Some programs may prevent Wi-Fi printers from interacting with a Wi-Fi connection.
Do the same when checking your computer's firewall programming.
If you are still having trouble establishing a connection between your Wi-Fi printer and your Internet router, start an online chat with your printer's manufacturer or give them a call.
Final Thoughts for Fixing Common Printer Problems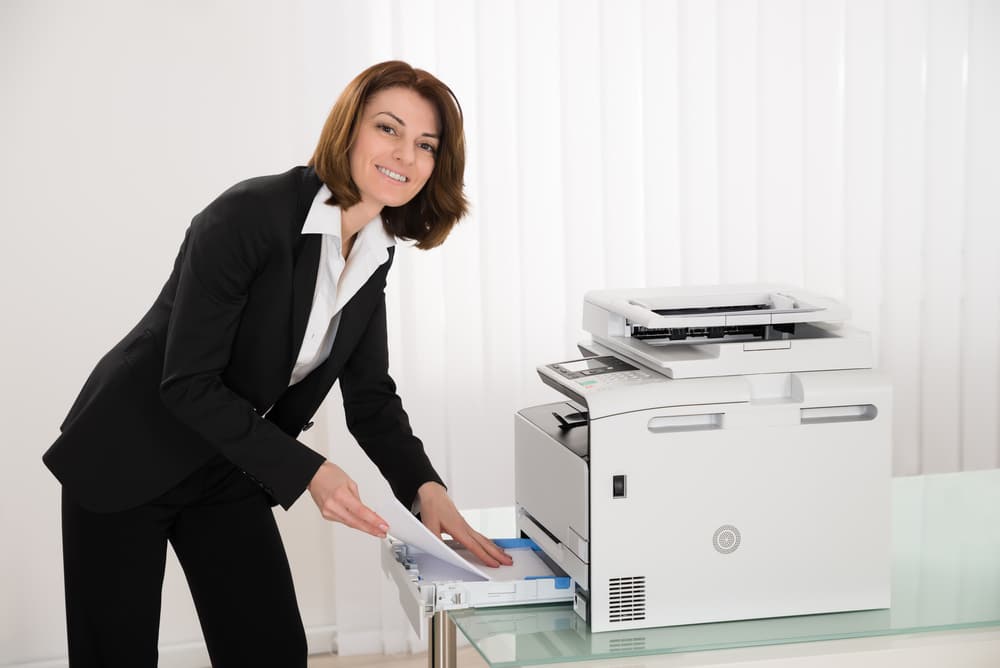 While you can fix these common printer problems independently, some humans may not have a technical knack like others. If you are having trouble fixing these issues yourself, ask another co-worker or supervisor in your office for help. Worst-case scenario, all you will have to do is contact the manufacturer to rectify the issue.
Contact us today to book a free assessment of your dental office.